Heb ik je ooit verteld dat ik een tijdje invallend weerman ben geweest op FOK!?
Omdat ik wel van schrijven hou, heb ik zo nu en dan het weer bij gehouden en er artikeltjes over geschreven. Soms kwamen vrij frappante hersenspinsels daarbij mijn brein uitspuien, en ik heb de interessantste hiervan hieronder opgesomd:
———————————–
Waarde landgenoten, een waar drama staat op het punt om los te barsten. Timmer de ramen dicht, betreed de schuilkelders, want morgen wacht ons de ergste ramp in eeuwen; de moordzuidwester des doods. De storm komt vandaag 'rustig' op gang en brengt vandaag harde windstoten tot 75 km/u met zich mee. Het KNMI heeft voor vanmiddag een weerwaarschuwing uitgegeven voor de kustprovincies. Luchthaven Londen Heathrow laat weten te verwachten dat ook het vliegverkeer in Groot Brittannië en Nederland ernstige hinder kan gaan ondervinden van het weer, en van NS kun je verwachten… wat je van NS kan verwachten 

. In de rest van het land kan een klap onweer vallen, hoewel het later in de middag vanuit het westen weer wat op kan klaren.  Morgen zal de storm in kracht toenemen, de weerwaarschuwing van het KNMI is imnmiddels ook van toepassing voor het hele land. Mocht je nog partytenten in de tuin hebben staan dan zou ik die voor die tijd maar eens binnenhalen. Dinsdag en woensdag neemt de wind wat rust met de nodige opklaringen.
Oh, en vergeet niet je klok te verzetten in verband met wintertijd. Minstens een meter!
———————————–
Goedemorgen. Het is raar weer in Nederland. In de Randstad en op de Wadden kan er een spatje regen vallen. Twee zelfs. Sterker nog, misschien worden het wel zoveel spatjes dat het een hele bui te noemen is. Mocht u de spatjes tegenkomen, blijf rechts rijden en probeer ze met lichtsignalen te waarschuwen. Die lichtsignalen kunnen op meer punten van pas komen. Na de storm van afgelopen maandag zijn er rare dingen gebeurd in het land. In Eindhoven is gisteravond een grote zwerm zombies gesignaleerd. Ze trokken door het centrum alsof er niks aan de hand was, en dat terwijl het nieteens volle maan was. Het vermoeden is dat het komt door vervuilde regen, of zoals ze het in de zomer van 1978 noemden: 'zure regen'. De verwachting is dat dit de komende avond niet anders zal zijn, want die spatjes kunnen tot meer zwermen van zombies en ander gespuis leiden. Ze zijn af te schrikken met vuur en te paaien met snoepjes.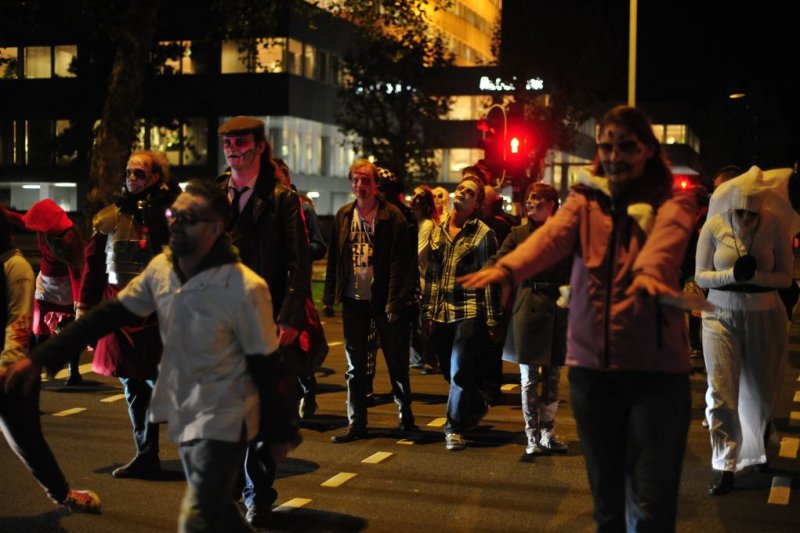 Zombies bestormen centrum Eindhoven (Foto: Kees Stravers)
En vergeet niet: Niet alle zombies zijn eng, soms kunnen ze best schattig uit de hoek komen: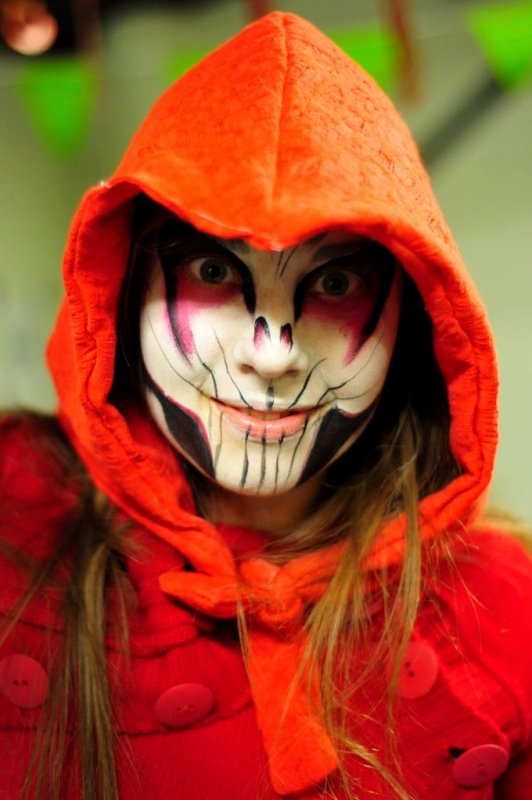 Om op te vreten of om door opgevreten te worden? (Foto: Kees Stravers)
Happy Halloween!
———————————–
Echt prettig weer is het niet, maar voor je erover gaat klagen: Wees maar blij dat het niet gaat sneeuwen. Daar heb ik een trauma aan overgehouden. Aan 26 januari 2013 om precies te zjin. Ik zette mijn fiets tegen de muur, stak mijn sleutel in mijn voordeur en liet daarbij mijn telefoon uit mijn handen glippen. Bam. Precies op dat ene stukje stoep waar geen sneeuw en ijs lag. Ik maakte de deur open en raapte de telefoon op en struikelde vervolgens over de drempel waarna ik en mijn geliefde juppenknuffel nu beiden op de grond lagen.
Toen ik weer overeind kwam bekeek ik mijn telefoon, het kleine barstje dat al eens eerder aan de onderkant verschenen was na een ongelukje veroorzaakt door een hele nare Breng-buschauffeur uit Nijmegen, had zich nu over inmiddels zo'n beetje het hele beeldscherm verspreid. Maar, alles werkte nog!
Vrolijk ging ik verder naar binnen en hing ik mijn mobiel aan de lader. Het lampje ging niet aan.

 Toen ontdekte ik hoe lastig het anno 2013 voor iemand als mij is om zonder mobiel te leven, zeker als je gewend bent om het wél te hebben. Ik merkte het meteen al, toen ik mijn verzekering wilde bellen: dat ging dus niet. Ik ben student, dus een vaste telefoonlijn heb ik niet. Dan voel je je toch even helemaal afgesloten van de buitenwereld. Maar, dat is verder irrelevant.
———————————–